After two years of thorough research, the Gold Bond Group decided to set up a robotic center for storage and distribution that will provided a targeted logistical solution for e commerce activities.
Planning of the robotic center has been based on accumulated experience and lessons from the logistics activities of international e commerce giants.
The robotic center for storage and distribution covers an area of 5,000 sq. m. in the heart of Gold Bond's Ashdod logistics compound. 
The center is scheduled for completion by the end of 2019, and it will be able to fill tens of thousands of online orders a day.
The center is being built to provide for particularly high productivity in assembling, packaging, and distribution on tight schedules and with maximum accuracy, to make possible the efficient and precise delivery of online orders to the customer's home as soon as possible after the moment of ordering.
The robotic storage center is a dedicated storage, collection, packaging, sorting, and distribution facility for e commerce, with a particularly large capacity and flexibility of sorting.
The facility provides an efficient, precise, and comprehensive solution for the entire e commerce supply chain, from the moment of acceptance into inventory and up to home delivery.
Items are accepted into inventory by means of interfaces that use the suppliers' own data such as manufacturer's bar code, serial number, batch, etc.
Acceptance into inventory, and collection, by means of smart robots, in a fashion that is ideal for retrieving single items and for managing inventory in a way especially suited to e commerce.
Special functions for adding value to orders, with customization for each order, including gift packaging, packing slips, coupons, advertising, etc.
Quick and efficient packaging of orders, in packages especially for e commerce, so that orders will arrive with professionalism and integrity at their destination, while also saving delivery costs.
The robotic storage center is complemented by a robotic sorting center that includes a sorter especially for e commerce packages.
The e commerce sorting center makes possible very fast, maximally precise distribution of packages.
All the logistics activities are governed and directed in real time by the world's most advanced IT systems for logistical operations, from HighJump Software of the USA.
The HighJump platform interfaces easily and quickly with every ERP system and website in the marketplace.
Its interfaces make for automatic work along the e commerce supply chain and ensure the highest possible level of service for the center's customers.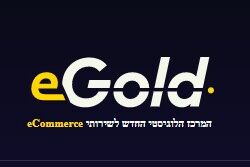 למעבר למרכז הלוגיסטי E-Gold